Reiki Treatments
So you have been sick, or you're in pain, or you're going through some changes that cause anxiety and confusion — and you want help.
Or you've heard of Reiki and think you want to learn how to do it, but want to experience it first.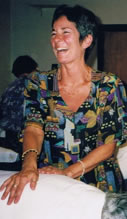 Reiki can help in so many circumstances. Whether you come because of a cold, to have a healthier pregnancy, or to get greater clarity about the changes you are going through, Reiki's intelligent healing energy goes wherever you need it most. As Reiki practitioners, we are simply conduits for the healing energy. Your body and your spirit draw this limitless healing energy through us to you in the way a magnet draws steel.
If you don't have something big going on, that's fine too. Reiki will simply nourish you in deeper, subtler ways.
Lucky for all of us, our small minds can't get in the way of you getting what you need in the moment!
---
10% of all fees for treatments go to a fund for clients who need financial assistance
So you want some Reiki. Now what?
If this is your first experience of Reiki, it is best to have a series of four treatments. That way, you have better support for whatever you are trying to heal. This is exponentially better for you than having a treatment here and there.
If you have had Reiki treatments before, then you probably have an idea of how many treatments you want at this time. If not, you can get an idea from the information below, or you can discuss it with your practitioner at your first visit — or before your first visit, via phone or email.
What are the Reiki Treatment Options and what is the cost?
Jump-start to Greater Balance
Four treatments
This is for you if you have never had Reiki and are new to energy work, or if you have a big issue you want to work on: severe pain, cancer, wanting a big emotional shift, or if you are in the middle of a life change (job, career, family, etc.). It is also good if: you are thinking about changing something in your life and want to get clear on it; you want to make a change but feel stuck; you're tired of being tired; or you're tired of some nagging pain.
Cost: $250-400
Call for more information on options
Simple Boost
Single in-person treatment
There are a number of reasons why you might choose this option. One is if you are in great health, feel balanced, have had energy work before, and are just curious about Reiki. Another is if you want to fend off a cold, or if you have been sick a while and can't seem to shake it. It is also good if you have had Reiki treatments in the past and sense that you just need one in-person treatment. In any of these cases, this option is the one for you.
Cost: $115
Untangling the Knots - Reiki for Situations
Reiki can help untangle the knots of situations, which, besides you, usually involve people and elements that you might not be aware of. For ethical reasons, Reiki for situations must be done "For the highest good of all," rather than for a particular outcome.
Would you really want anything other than the highest good, after all?
Because situations are not physical bodies, you are not physically present. We send Reiki healing energy to the situation on four separate, often consecutive, days.
Do you wonder whether Reiki can work for situations? I did!
Early one morning as I was getting ready for work, I received a phone call from Michael Bell. As President and CEO of In Partnership consulting, Inc., he is a nationally recognized leader in organizational development and strategic planning for many organizations. He needs to be on time for the planning meetings and retreats he leads. This particular day, he called from the Houston airport urgently asking for Reiki. He and his business partner were having trouble getting to their client. The plane had been late; their transportation to the retreat place hadn't come. They tried to get a taxi or limousine, but nothing was working out. I agreed to send Reiki but thought there was time first for me to finish getting ready for the day. Half an hour later, Michael called again and asked whether I had sent the Reiki. I hadn't. He asked me to send it right away: the limousine that was supposed to pick them up had just taken a different passenger! I immediately sat down and sent Reiki. When I talked with Michael later, he told me another limousine picked them up five minutes after our second phone call, while I was sending Reiki to the situation for the highest good of all. show more show less
Cost:$20 per treatment (number of treatments discussed and agreed on ahead of time)
Refund policy
If you sign up for a series of treatments and decide anytime after the start of the first session that you want to discontinue, we refund the cost of the remaining treatments if you have paid in advance.
How do I pay?
You can pay by cash, check, credit card, PayPal, or Venmo.

I'm ready! How do I sign up?
For appointments or questions, Call (510) 653-9884 or send an email to